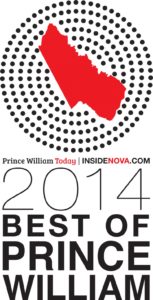 FOR IMMEDIATE RELEASE
CONTACT:
Kathy Strauss
kathy@imagewrks.net
703-492-8215
ImageWerks Wins Two "Best of Prince William" Awards
Lake Ridge Company Voted Best in Graphic Design & Event Photography
Each year, Prince William Today asks readers to vote for the "Best of Prince William," selecting their favorite local people, places and companies. This year, the paper recorded more than 55,000 votes from nearly 5,000 participants. One Lake Ridge, Va. based company, ImageWerks, won in two categories: Graphic Design and Event Photography.
"This is truly the icing on the cake as we celebrate our 15th anniversary in business. We take great pride in our work and ability, and look forward to another 15 years and beyond of growth, helping our clients tell their story through photography and art," said Strauss.
ImageWerks bills itself as a "visual storyteller," with services that include graphic design, photography and even creative coaching. Husband and wife team GC Schow and Kathy Strauss started the business in 1999 with one client: a small local business in need of a logo and brochure. Since then, their client base has expanded to also include organizations such as the Prince William Chamber of Commerce, the World Bank and Carleton University.
The company has also grown in terms of service offerings, building upon the artistic interests of its founders. Now, clients can commission paintings or purchase glicée prints of Schow's work, or develop a corporate image gallery with Strauss, whose responsibilities while at USAID included art direction and compiling image libraries of events, projects and executives.
"Kathy has a way of taking even the most mundane aspects of a place, an event, anything, and making it beautiful," said client Rebecca Barnes, publisher of Prince William Living. "We can always count on her for images that bring our stories to life and capture the spirit of the community."
Strauss, a certified Creatively Fittm coach, also teaches hands-on workshops geared to unleash the inner artist. "Studies have shown that getting in touch with your creative side sparks increased productivity and enhances problem solving. My courses are also excellent for team building. You can sneak in a lot of knowledge when people are having fun," said Strauss, who has earned a "Crash Course in Creativity" certification through Stanford University.
For more information about ImageWerks visit www.imagewrks.net.