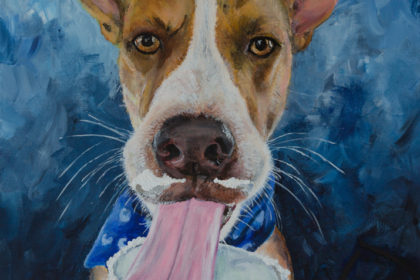 Recently I was commissioned by a networking friend to create a painting of his girlfriend's dog, Muggle. I had no idea what the source photo he was going to give me. But, after a special "secret" camping trip they took, he sent me photos of her pup in "action". When I say action, I couldn't have asked for a better source photos . . . it literally captured an expression & mood of pure doggy bliss . . . Muggle was lapping up a Starbucks "Puppucino"!… literally, this dog had whip cream all over his muzzle. The fun part for me when creating this painting was to capture all of the texture of the whipped cream on his nose & on the cup. Oh, & did I mention, painting in the top half of the Starbucks logo???
Check out how this painting came together—kinda fun, huh? I just love the last photo of Muggle & his owner with the painting I did!
Want a special painting of your furry friend, CALL ME or CONTACT me through our Get In Touch page. I'd be honored to create a special piece just for you.